Our world is filled with marketing buzz words that mean different things to every person. So, when Collicutt says we are a power generator solution provider, what does this really mean and why should you care?
Solution Provider Definition
The term Solution Provider started to gain in popularity back in the early 2000's and then really took off when Keith Eades published his book "The New Solution Selling" in 2004. What Eades had realized is that products were becoming commoditized in our increasingly globalized world. He recognized that in order to be differentiated and increase sales, businesses would need to provide a solution to a customer problem rather than just selling a product.
Simply offering a product for sale, no matter how good the product, is no longer a viable business plan . . . it is a deep discounting race to the bottom! Businesses now have to listen to customers, understand pain points, and offer innovative solutions that put an end to the pain.
In the world of power generation there are many pain points that need to be handled for a customer. There are also a lot of players in the power generation market that provide varying levels of service, products, and solutions.
So what does Collicutt offer that makes us different?
What Makes Collicutt Different
Collicutt is a full service solution provider in the power generation business. As illustrated in the chart below, we provide a complete range of services and solutions that the other players in the market simply don't provide by themselves.
Our role is to work with whoever we need to work with to pull together a complete solution for our customers. This is the value that we bring to our customers. Our customers no longer have to source out all of the components of a power generation project . . . they just have to engage our team and we take care of the entire power generation supply scope!
Collicutt works with our customers and their engineering teams to provide a complete integrated solution that is not just fit for purpose but also in compliance with all of the engineering requirements, building codes, and environmental constraints. We are able to do this by leveraging our in house experts and partnering with our extensive network of suppliers and service providers.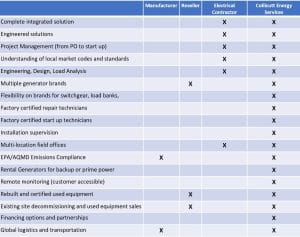 Take Action
If you are looking at adding any sort of power generation to your organization, give us a call. We can handle all the dimensions of your power generation project!
For more information on our power generation services or solutions, contact us via email or at the number below:
1-888-682-6888 or info@collicutt.com
Finally, see these articles for related content: