Why Every Microgrid Should Contain a Natural Gas Generator: A Sustainable Solution for Uninterrupted Power Supply
A microgrid is a localized group of electricity sources and loads that can operate independently of the traditional centralized power grid. Microgrids can include a variety of different power sources including renewable energy resources.
Typically, a microgrid consists of several essential components some of which are listed below:
Energy generation resources like; solar panels, wind turbines, fuel cells, D-UPS, diesel generator, or natural gas generators.
An battery energy storage system, BESS, to store excess energy and provide power when the solar and wind cannot.
A load (typically the group of electricity consumers on the microgrid).
A microgrid controller that controls and optimizes the generation, consumption, and storage of energy.
A controller and switching system that enables the microgrid to switch between operating in utility-connected or island mode.
An advanced communication system that enables the coordination and optimization of the microgrid's elements.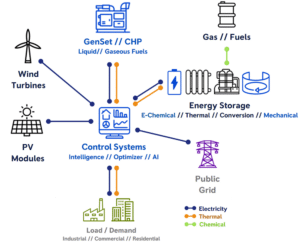 Microgrids offer many benefits, particularly for businesses and institutions. We have listed five below but there are many more depending on the unique site situation:
Resilience and Reliability: Microgrids can operate in island mode during a grid outage, providing uninterrupted power supply which means uninterrupted business operation.
Energy Efficiency: By generating power close to the source of consumption, microgrids reduce transmission losses.
Cost Savings: Microgrids can provide 100% of the power required for your facilities or they can leverage peak shaving and load shifting strategies to lower energy costs (or a combination of these solutions). Some microgrids can also produce power to the utility grid and become revenue generators.
Environmental Sustainability: By incorporating renewable energy sources, microgrids reduce greenhouse gas emissions (especially if the utility power uses a combination of coal fired power generation). This plays in big role in a business as they drive towards their net-zero or carbon-neutral goals.
Energy Security: Microgrids reduce dependence on the national grid, enhancing energy security.
Despite the promise of renewable energy sources like solar and wind, their intermittency and low capacity factor (1) makes it difficult to rely on them exclusively for a consistent power supply. This is where natural gas generators become invaluable. A natural gas genset can be brought online by the microgrid controller to provide power when renewable resources are not available, such as when the sun isn't shining or the wind isn't blowing. See MIT Energy Initiative's study; "The Future of Natural Gas" (2) for more details.
Comparing natural gas generators to traditional diesel generators, natural gas has several advantages:
Lower Emissions: Although emissions vary greatly between manufacturer and generator size, natural gas generators produce fewer emissions than diesel, including lower CO2, NOx, VOC, and particulate matter emissions (3), which makes them a cleaner alternative (International Energy Agency, 2021 (4)).
Cost-Effectiveness: Natural gas is more cost effective than diesel, resulting in lower operating costs.
Reliability: Natural gas supply is usually more reliable than diesel especially in urban areas with established natural gas infrastructure. Diesel tanks need to be filled while methane is "unlimited" via a natural gas pipeline.
Regardless of the technology chosen for your microgrid, there is a capital cost required to get a system designed, installed, commissioned, and started up. Many companies simply don't have the capital sitting around for this type of investment and continue to rely on unreliable and expensive grid power. However, this is where Energy as a Service can play a role in getting your microgrid system in place and removing your reliance on the traditional power grid.
EaaS – Energy as a Service
Energy as a Service is essentially the supply of key components of a microgrid system on a lease type arrangement or power purchase agreement. This allows customers to avoid the upfront capital cost of purchasing these key components.
The key components of EaaS that Collicutt Energy is able to provide include;
Microgrid controllers
BESS systems
Gas generators
Biogas generators
Gas blending systems
D-UPS units
Diesel generators (for black start)
Summing Things Up
In conclusion, the integration of natural gas generators in a microgrid design is a practical, sustainable, and economical solution for ensuring uninterrupted power supply. As businesses and institutions continue to strive for resilience, efficiency, and sustainability, the microgrid—with natural gas as a key component—presents an effective pathway to achieve these objectives.
If you have any questions regarding this article or if you have a microgrid or power project of any kind give us a call at Collicutt Energy at 888.682.6888. We have a team of experts that would be happy to work with you to evaluate your project and determine the best fit solution for you.