Drilling and Well Servicing Equipment Maintenance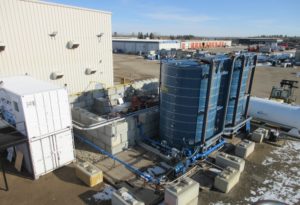 At Collicutt Energy, we provide superior well servicing equipment maintenance solutions to our customers. This includes customer service rigs, drilling rigs and fracturing equipment. Collicutt has field and shop technicians depending on what the customer's needs are. Our fully stocked and tooled service trucks are available 24/7.
We recently built a frac test stand where we can test run a pump unit up to 15,000 psi.  Our state of the art monitoring software allows us to monitor the client's equipment and how their units are performing.  At our test stand, we have been able to diagnose a client's equipment prior to coming into our shop to be worked on.  This has led to finding other issues that need attention, resulting in fully functional units when they are deployed back in the field.  We also perform post-work test runs on the equipment we put through our shop, ensuring the equipment is field ready.  Our frac test stand is equipped with a natural gas supply at 75psi for our customer who are equipped with dual fuel.
Within our 70,000 square foot facility, we have 6 bays dedicated to our fracturing customers.  We can roll their units into our bays, hoist any piece of equipment off of their rig with our 40 tonne cranes.  We work on anything chassis up, including engine, transmission, power and fluid ends, plus any ancillary equipment.  In a separate, clean environment we have a transmission rebuild department.  In this area, we rebuild CAT TH55 and TH48 transmissions.  Our technicians have years of experience rebuilding transmissions.  We recently commissioned a transmission test stand where we can test the operating pressure of the transmissions at the various gears.
We have a dedicated service overhaul bay where we can overhaul any engine, CAT, Cummins, MTU, Siemens, Guascor, Scania, Detroit Diesel, John Deere, etc.  Our extensive inventory of parts and equipment allows us to quickly turn around an engine overhaul.
We also rebuild many engine components in house.  Our state-of-the-art head machine provides for superior quality rebuilt heads.
For all the reasons above, we are an excellent choice for engine repair alongside our drilling and well servicing equipment maintenance needs. We invite you at any time to come tour through our shop so we can personally show you around.