Generator Servicing
Whether you are operating emergency standby or prime power, simple cycle or combined heat and power, Collicutt provides superior generator servicing on many makes and models of gensets. At Collicutt, we are experienced maintaining CAT, Cummins, MTU, Kohler, Generac, Siemens, Guascor, etc. Our field technicians are versed on the engine as well as the electronics and controls. They have factory training from CAT, Cummins, MTU, Siemens, Kohler and Generac. Our maintenance program follows CSA282 to ensure compliance with Canadian regulations. We have technicians on standby 24/7/365.
We offer free quotes for Collicutt to provide preventative maintenance packages for your generator.  This package can be tailored to what you require.  Our services include:
Oil changes
Automatic Transfer Switch ("ATS")
Thermal imaging (looking for hot spots in the alternator and ATS)
Oil, coolant and fuel analysis
Fuel polishing
Load Banking
Engine rebuilds
Emission system maintenance and monitoring
Alternator repair and rewind
Remote monitoring
The most common points of failure on any generator set is in the starting system or the fuel system.  We recommend a preventative maintenance package where a certified technician performs an inspection twice a year.  CSA282 requires that your generator be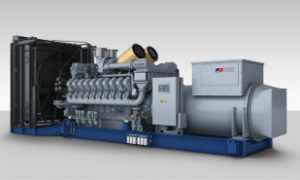 inspected monthly (weekly in health care facilities).  Collicutt offers the entire range of services that follow CSA282.
The new emissions regulations mean that some generators require a diesel particulate filter (DPF).  It is imperative that your generator run under load to be able to regenerate the DPF.  The regeneration process is where the DPF under high heat will burn on/self clean itself.  Every cold start of a generator slowly builds up carbon in the DPF.  Over time, the DPF will become clogged and the generator will either not be able to start or not be able to pull full load.  At Collicutt, part of our regular maintenance is to load bank the generator at full load, this will produce enough heat through the exhaust to begin the regeneration process on the DPF.  If a DPF goes too long with too many cold starts (lightly loaded), the DPF elements will need to be removed and baked to clean the system.
For more information on our generator servicing, call 1-888-682-6888